When it comes to choosing the right adult diapers for yourself or your elderly loved one, it can be tricky to figure out what works best. Everyone has different needs and requirements, as well as different preferences for comfort.
While all of the brands available on Medpro Direct are highly reputable, quality products from trusted brands, we've put together a collection of the most popular and highly rated products for senior and elderly needs.
Factors to Consider When Choosing an Adult Diaper
The best adult diapers for seniors should be chosen based on the following factors. Some of these factors will be specific to the individual person's own situation and preference.
Absorbency:

High absorbency diapers are important for reducing leaks and allowing individuals to go as long as they need between changes. Products that are labeled as "super," "maxi," or "maximum" have the highest absorbency capacity.

Comfort:

An important factor in deciding on an adult diaper is comfort, especially if they need to be worn at all times. Some products are made with more comfortable materials depending on how often they need to be worn.

Odor control or retention:

Adult diapers that have odor control technology can help keep the smell of accidents contained to reduce embarrassment, self-consciousness, and individual dignity.

Style:

This is largely dependent on the individual's lifestyle choices and preferences. Those who are more active might want a more comfortable, low-key style, while others might want something more secure for larger or more frequent leaks.
The Best Adult Diaper Products and Brands
Here are the top five brands we recommend for seniors and elderly individuals based on a variety of needs and lifestyles. Each of these adult diaper products is available online, shipped right to your door, from the most highly trusted and reputable brands in Canada.
Attends Extended Wear Briefs
Attends Extended Wear Briefs are a great choice for those who are looking for a comfortable, flexible fit with long-lasting protection for day or night. This quality brand boasts low re-wet rates and positive reviews by customers across the country. With Dry-Lock® Containment Core and DermaDry™ technology, these briefs are designed so seniors can go longer periods of time without the need for frequent changing. They are also made from breathable, soft fabric that provides comfort for sensitive skin, with an elastic waistband so they can go on easily.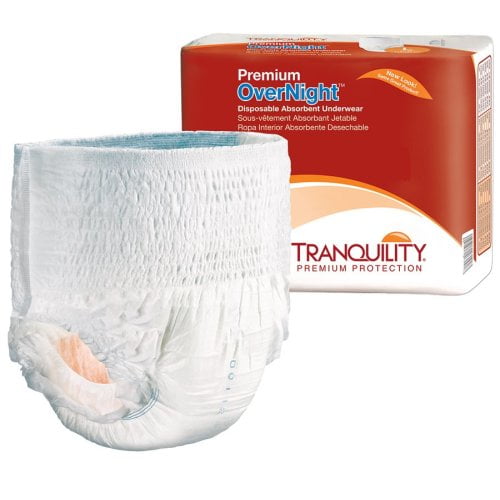 Tranquility Premium Overnight Incontinence Underwear
Tranquility Premium Overnight Incontinence Underwear are made at the maximum absorbency level so seniors can sleep comfortably throughout the night without leaking. This premium product comes in sizes ranging from extra small to double-extra large to accommodate a variety of body sizes and types, making them ideal for everyone. The taller waist panel resembles briefs so seniors don't need to feel like they're wearing a diaper, and the easy pull-on constructions makes getting them on a breeze. The soft comfort and high absorbency make these adult diapers a highly-rated product from consumers across Canada.
Tranquility All-Through-The-Night Maximum Capacity Disposable Briefs
Tranquility All-Through-The-Night Maximum Capacity Disposable Briefs offer maximum protection for those at higher risk for accidents and leaks, designed to hold up to a quart of fluid at a time. Kufguards® technology uses an inner leg cuff design to channel leaks through to the core of the diaper, keeping the external area dry and secure. It also features an easy tab design so seniors won't have an issue getting them on and off. This is one of the highest absorbency diaper products on the market from a reputable, trusted brand.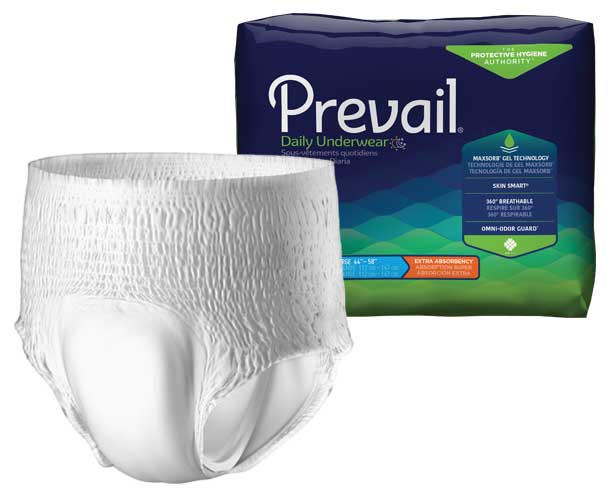 Prevail Extra Underwear
Prevail Extra Underwear is a highly-rated choice for daily, everyday use. Made from form-fitting elastics for a comfortable fit, these adult diapers are ideal for seniors who are still mobile and want to go about their everyday activities with ease. The design also makes these diapers feel more like regular underwear, with a pull-up method aimed at convenience and a cloth-like fabric to prevent discomfort.
Prevail Air Overnight Stretchable Briefs
An important part of getting a good sleep is being comfortable, and with Prevail Air Overnight Stretchable Briefs, comfort is the key component. These maximum-capacity briefs help you stay protected even during heavy leaks, but with the stretchiness that allows for a productive sleep. Added Microclimate Care™ technology helps promote breathability to keep air and moisture out, while AIRMAX ™ Layer and Maxsorb™ Gel technologies work together for protection. Other technologies include Omni Odor Guard ®, Expandex™ Wings, and Easy-Lock Fastener ® Strips to keep the briefs secure overnight.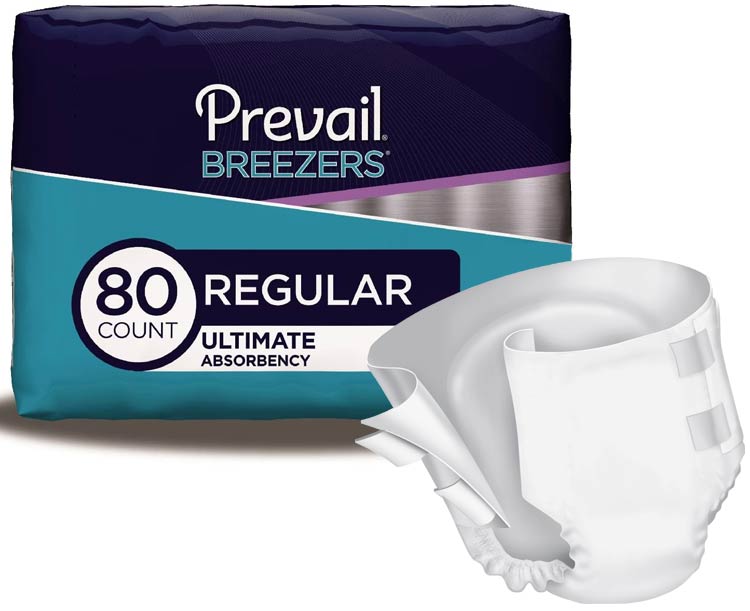 Prevail Breezers Adult Incontinence Briefs
The unisex Prevail Breezers Adult Incontinence Briefs are a popular choice for both performance and comfort. These briefs contain multiple technologies such as QUICK WICK ™ with MaxSoft, breathable side panels, and a cloth-like fabric to keep the wearer as comfortable as possible. The added breathability helps to prevent diaper rash and keep moisture out, while the Odor Guard® technology ensures that any unwanted smells don't escape at the same time. With Skin Smart™ Fabric and a cloth-like feel, these briefs provide maximum comfort levels so the individual gets all the protection of an absorbent adult diaper without feeling like they're wearing one.
Lille Supremfit All-In-One Maxi Briefs
The Lille Supremfit All-In-One Maxi Briefs are a popular choice for people with moderate to heavy incontinence issues, or those who are bedridden and don't have frequent access to washrooms. Built with the Lille air system technology, the structure and design ensures the ideal combination of comfort and absorbency for the wearer. An added bonus is the built-in odor control system, which helps restore dignity and retain freshness between changing. This is an excellent choice for those with sensitive skin, as the material is hypoallergenic and latex-free. 
TENA Men Protective Incontinence Underwear
Designed specifically for men, TENA Men Protective Incontinence Underwear are shaped to accommodate anatomical fit. They look and feel just like regular underwear, but feature a super absorbent technology to protect against leaks or accidents. An advanced odor technology is included to ensure control. This is an ideal choice for those who are still living relatively active or mobile lives, giving them the comfort they need to go about their day. 
TENA Plus Protective Underwear
TENA Plus Protective Underwear features a unisex design that provides full coverage for a variety of body sizes and shapes. Built with soft, cloth-like material that provides a comfortable and secure fit, this underwear will move along with the wearer so they are always protected and can preserve their dignity with a discrete feel. Tear away sides are also a bonus, allowing the wearer to easily get them on and off.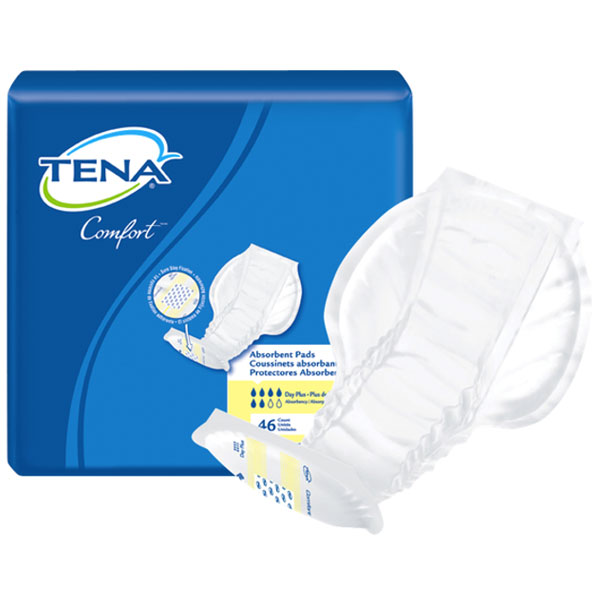 TENA Comfort Pad
The TENA Comfort Pad is an ideal choice for those who don't need a full diaper, but still require protection against moderate to heavy bladder leakage. Designed to sit inside regular underwear, the pads feature a fixture that holds them in place for a secure fit. These pads provide coverage during the daytime, so the wearer can go about their regular activities with the comfort of knowing they're protected against accidents. 
Swimmates Disposable Swimwear
Swimmates Disposable Swimwear provides maximum protection to keep seniors covered during aquatic activities. Seniors and the elderly often participate in aquatics because they are easier on the muscles and beneficial for maintaining a low-impact exercise routine. With this popular choice, seniors can spend as much time as needed in the pool or at the beach without worrying about accidents leaking through. As a bonus, they feature a comfortable design so you can move as freely as possible in the water.
Freestyle Adult Swimsuit
The comfortable, lightweight Freestyle Adult Swimsuit is made from a 100% nylon exterior and a 100% polyester interior lining. Designed to keep solids in place while water can easily pass through, this breathable swimsuit is built to hold up during a variety of underwater activities, from hydrotherapy to casual swimming. It ties in two spots, at the waist and around the legs, to ensure a secure and comfortable fit. Available in a variety of sizes from junior to large.
For those who experience moderate leaks and need a more casual form of protection, the Wearever Women's Cotton Comfort Panty is an ideal choice. Elderly individuals who are still very mobile and active will be able to enjoy the peace of mind from the absorbent pad, with the comforts of the soft jersey cotton material. They come in both beige and white and are known to be very discreet under regular clothing.
Wearever Men's Briefs – Maximum Absorbency
The Wearever Men's Briefs are designed to fit like regular underwear with an added protective layer to help prevent leakage or accidents. With an elastic waist and a soft cotton/polyester blend material, they feel comfortable while providing the ease of mind that the wearer is covered while they go about their day. This underwear is available in both white and grey to suit personal preference and blend in under regular clothing.
Wearever Men's Boxer Briefs
With Wearever Men's Boxer Briefs, elderly men who prefer this particular underwear fit can get a sense of relief and comfort. Added leak protection ensures that those with light incontinence issues are covered whether they're out in public, at home relaxing, or even enjoying their regular exercises. Each pair holds up to 5 ounces of liquid for regular coverage.
Get a Free Sample From Medpro Direct
Not sure which product will work for you or your family member? Try a few kinds for free through the Medpro Direct free sample program. All you have to do is choose up to five (5) different product samples you want to test, and then pay the shipping. Once you test them out and find the ones that work for you, you can enjoy free shipping on orders over $50 as an ongoing benefit of our free sample program. Get started by shopping all of our available free samples now.